Staff
Alexsander Rupchin
Director of Tennis & Head Coach
PTR Certified
Alex is a certified tennis professional who has more than 10 years of coaching experience on both ends of the Atlantic Ocean. He is a Kinesiology graduate from the National Sports Academy located in the European Union, where he earned his Physical Education and Tennis Teaching Credentials. Coach Alex believes in hard work and consistent progress on tennis and personal level. He combines his academic knowledge with his coaching practice to give every student a solid foundation upon which to further improve.
Alin Cimpoaie
Coach
Alin started playing tennis at the early age of seven back in Eastern Europe. Over the years he competed successfully in tournaments at all age groups where he gained his extensive and knowledge for the game of tennis. Furthermore, he is immensely gifted, skillfull, and accomodating tennis instructor with several years of conducting group tennis clinics. He goes to say: "nothing in life comes easily without hard work and the game of tennis is like everything else: it requires discipline, commitment, and perseverance".
Mark Alhadate
Coach
Mark started playing tennis at the age of 12 in the bay area. Over the years he has played in tournaments across the bay area, specializing in the game of Doubles. He has competed in tournaments in other states such as Arizona and Nevada. Mark has learned many skills from a diverse group of tennis professionals state wide, which have included college, and high school coaches. He has been teaching High School tennis along with private lessons to children, teens and adults for the last five years. Mark's teaching methods include: "working in techniques and fundamentals" stressing improvement on weaknesses. His motto "The better you become, the more fun the game becomes". He enjoys helping students move up in competition,and reach their maximum potential.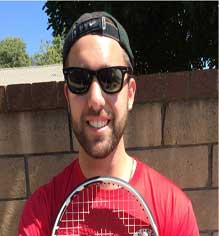 Harrison Kunz
Coach
Harrison has had a love for recreational sports his entire life. He became involved in youth sports at age 5, and has always had a passion for tennis. He began coaching sports when he was 12 years old, and continues to this day. He is currently a student at Santa Clara University studying Communication. He believes that tennis, while requiring hard work, is one of the most fulfilling sports in the world. He is dedicated to teaching aspiring athletes the fundamentals of tennis using fun exercises that challenge and energize.
Julianna Bacelar
Coach
Julianna Bacelar played for the Spartans from 2012-2015 after transferring from Ventura (Calif.) College. She finished her San José State career second on the all-time wins list with 131 victories (even though she just competed for 3 seasons), set the San José State single-season record for most combined singles and doubles wins (54) and most singles victories (28) as a sophomore in 2012-13. She is also a three-time Intercollegiate Tennis Association (ITA) Scholar-Athlete, two-time All-Western Athletic Conference (WAC) honoree, and San Jose State Scholar-Athlete Award winner.
Julianna was the tennis team captain on her junior and senior year. Prior to coming to the United States she played in 29 WTA tournaments. She had WTA singles rankings of 1,051 and a doubles ranking as high as 687 on 2011. Julianna just graduated in December 2015 with a degree in Business Finance. Today she is the Women's Assistant Tennis Coach at San Jose State.
Billy Chan
Coach
Billy started playing tennis his freshman year in high school. He started as a jv and throughout the years he got to varsity doubles and singles. He has been playing tennis for 10 years and has been coaching variety of kids of all ages for 3 years. Billy is always looking for new fun ways to help students improve their game in tennis.
Francisco Lopez
Coach
Francisco, aka Paco, was born in Stanford hospital in 1985 and has been living in East Palo Alto since 1992. In 1995 he began playing tennis at EPPAT(east Palo Alto tennis and tutoring) an after school tennis and academics program. Paco was part of the program for 6 years and played lots of tennis during my time there, and made it to CCS his first year in high school. For health reasons he had to take a break then began playing again two years later. Paco has been teaching since 2004, is USPTA elite level certified, USPTA certified and love to teach any level and age!